Down the Rabbit Hole pt 2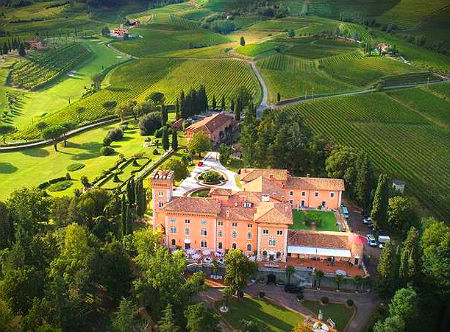 Having just came from Valpolicella, Amarone-land, my palate was screaming for some high acid whites. Luckily we arrived in Collio just in time. Our itinerary was a little different for this leg of the trip, we were taking part in an event called the Collio Experience. Food, wine and travel journalists and bloggers from all over the globe converged on Castello di Spessa to enjoy wine tastings, vineyard tours and culinary experiences highlighting all Collio had to offer. Sort of an interactive infomercial for the senses. Castello di Spessa is a beautiful resort among the rolling hills including a golf course where one could tee off directly over some vineyards (how many grapes were lost to a wicked slice, I don't know).
Upon arriving in Collio we were already late for our first tasting. We were picked up and quickly rushed to the winery, Gradis Cuitta, where a room of about fifteen angry journalists and bloggers were waiting for us to begin. Just a few kilometers from the Slovenian border nestled in the lush hillsides, Gradis Cuitta is owned by the president of the Collio consorzio. There we tasted a line up of their Friulano, Pinot Grigio, Malvasia, Sauvignon and Chardonnay. They have developed an app where they can detect which part of the vineyards need specific attention regarding pests and diseases, watering issues, etc., there by giving them real time info to react to the problem quickly. A modern approach to old problems. From there we went down into their cellar where we ate, drank and mingled with the other guests, anticipating what the next day will bring.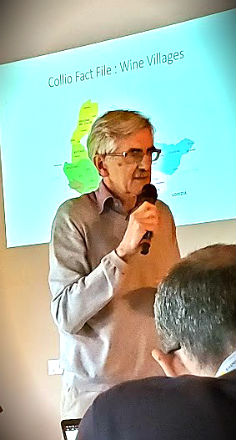 During our next two days we had the opportunity to sit in on two master classes with Collio wine expert, Richard Boudains, who spoke on how terroir and geographical location, as well as different winemaking techniques make a diverse range of styles coming out of Collio. For that class we tasted 24 different Friulanos and Collio Bianco blends (typically blends of Friulano, malvasia, chardonnay in some type of proportion). The range of styles, flavors and aromas were pretty impressive and the judicious use of oak for the Bianco Reservas made a lovely impression on the wine. The second class was about one of the most widely planted grapes of the area, Sauvignon. We tasted 33, yes that's right, Sauvignons that morning! All from different areas of the region. The amount of acid consumed in that sitting left my lips raw! Interesting nonetheless to hear about the rich history of the area from the perspective of Richard, someone who has fully immersed himself into this region.
Among some of the events we attended in Collio a few highlights stood out. We went to a tasting where thirty producers from the region showcased about three wines each. Everything from Friulanos, Ribolla Giallas (still and sparkling), Malvasias and sweet Picolits. After which we had an amazing wine dinner with food and wine pairings prepared by a Michelin starred chef (one of two dinners by Michelin chefs). By far for me though, my favorite highlight was visiting the winery, Ronchos Blanchis. In their native slang Ronchos Blanchis translates to white hill, not only for the white grapes grown on the hillsides, but also for the fog that rolls into the area. A small family owned winery, you could tell the winemaker truly had a love and passion for sharing his wines.

There we tasted a Friulano vertical from 2006 to 2018. Some of the vintages had a proportion of the grapes affected by botrytis in the blend adding deeper complexity and body and a touch of honeyed sweetness. After we toured the vineyards I asked him to purchase a Ribolla Gialla of his I had tasted at the event the night before. He so graciously gave me the bottle for free, even after I insisted I pay for it. A kind gesture not to be forgotten.
Our final evening in Collio was a big farewell gala overlooking the gorgeous hillsides. The second Michelin star meal was on the agenda. Two winemakers who took part in the event were seated at our table, so being able to get really geeky asking them questions was awesome, but even more so, after a few glasses of wine everyone let loose.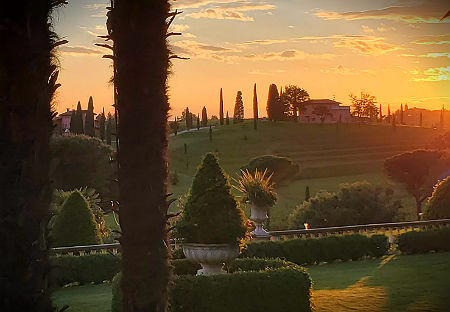 Truly a fun evening having an opportunity to meet the winemakers, journalists from near and far and eat food I would never bring myself to pay for in a normal setting. Although not as casual and more regimented then my time in Valpolicella, the beautiful landscape and the regions eagerness to make a lasting impression through Collios wine and food certainly left a mark in memory. Final stop, Abruzzo.