The Spanish Wine Scholar Study and Certification program provides current, accurate and in-depth information on the wines and wine regions of Spain. Recognizing the exceptional depth and accuracy of the program, Wines from Spain (ICEX - Spain's Trade & Investment Government Agency) has endorsed the program. All classes and the exam are held at Bitto Bistro, 14697 Delaware St #1000, Westminster CO 80241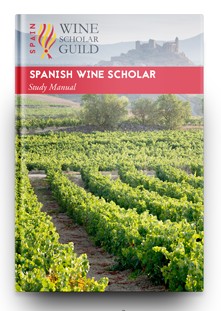 Developed and administered by the Wine Scholar Guild, this specialization program is designed for advanced students of wine, whether professionals or serious wine hobbyists. WEI is an approved program provider for the Spanish Wine Scholar program and the course is taught by approved SWS educator Daniel Schlachet. Tuition includes the 300-page Spanish Wine Scholar study manual, one-year access to the Online Spanish Wine Scholar study program with Q&A forum, and the exam.

Students of wine who follow this in-depth curriculum and pass the exam will earn the Spanish Wine Scholar title and SWS post-nominal.

Included in the registration with WEI is the complete study package (study manual, online program and in-class exam sit).

Classes will be held on Monday nights at Bitto Bistro, 14697 Delaware St #1000, Westminster CO 80023.


Welcome Meeting: 7-9:30pm

Meet your instructor. Receive your manual, get login and password access to the online program. Review the Spanish Wine Scholar program itself and receive tips on how to best study and prepare for the exam. Get acquainted with your fellow students! Form study groups!


Self-Study Segment 3 weeks each

Read the manual, study the e-learning modules, watch the videos, and test your knowledge via the online quizzes. Need support? Reach out to your instructor through the student forum or email him or her directly.


4 Review & Tasting Sessions 1: 6-10pm

Every 3 weeks you'll return to class for an instructor-led review of the regions studied in the previous segment. We will go over the most difficult aspects of each region, start to connect all the dots, and taste and comment on a slate of 12-15 wines from these regions.

Exam to take place 1 weeks after fourth and final Review and Tasting Session. This program is offered twice in 2020, please choose the session in the dropdown below.