The French Wine Scholar Study and Certification program provides current, accurate and in-depth information on the wines and wine regions of France.

Developed and administrated by the Wine Scholar Guild with the support of the French Ministry of Agriculture, this specialization program is designed for advanced students of wine, whether professionals or serious wine hobbyists.

Students of wine who follow this in-depth curriculum and pass the exam will earn the French Wine Scholar (FWS) post-nominal.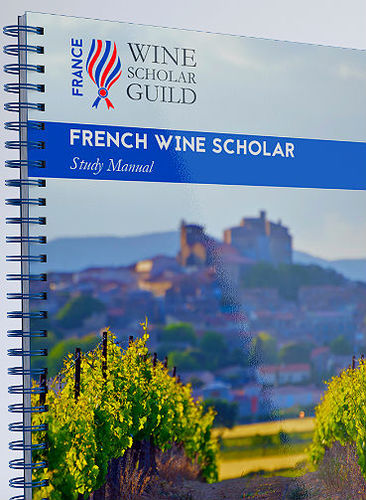 The French Wine Scholar program provides each student with a deep level of information on each the major wine regions of France, helping you achieve a broad and professional level of proficiency in French wine. The impact of history, the significance of geological events, the importance of topographical markers and the influence of climatic factors will be discussed.

Join the Wine Education Institute to study for your French Wine Scholar credential in an engaging combination of on-line self-study and interactive classroom tasting and review! This "bricks and clicks" format is a comprehensive, cost- and time-efficient, user-friendly way to earn a post-nominal. This specific course of study has been endorsed by France Agrimer (French National Wine Office), Diageo, Kobrand, Maisons, Marques & Domaines, Palm Bay International, Pasternak Wine Imports, Vineyard Brands, Wilson Daniels Ltd., Louis Latour, Inc., Vintage '59 Imports, Robert Kacher Selections, Boisset Family Estates, and Moet Hennessy USA.

The study package includes:


A welcome meeting to review the study program itself and its format

The 250-page French Wine Scholar study manual

One-year access to the Online French Wine Scholar study program with Q&A forum

Two half-day, in-classroom review sessions with tutored tasting

FWS exam

Tuition:
Tuition for the program is $750


Program Schedule:

Welcome Meeting: May 25 from 7-9:30pm
Meet your instructor. Receive your manual, get login and password access to the online program. Review the French Wine Scholar program itself and receive tips on how to best study and prepare for the exam. Get acquainted with your fellow students! Form study groups!
Self-Study Segment Part 1:
To be covered: Alsace, Burgundy, Champagne, Loire and Beaujolais. Read the manual, study the e-learning modules, watch the videos, and test your knowledge via the online quizzes. Need support? Reach out to your instructor through the student forum or email him or her directly.
Review & Tasting 1: June 15, 6-9pm
Come back to class for an instructor-led review of Alsace, Burgundy, Champagne and Loire! We will go over the most difficult aspects of each region, start to connect all the dots, and taste and comment on a slate of 12-15 wines from these regions.
Self-Study Segment Part 2:
To be covered: Rhone, Provence, Bordeaux, Languedoc-Roussillon, Provence and Southwest France. Another 6 weeks of reading, e-learning modules, videos and interactive quizzes!
Review & Tasting 2: July 6, 6-9:30pm
Back to the classroom for the final review and tasting session to get you prepped for the exam!


FWS final exam: July 20th, 7-8pm

One hundred multiple-choice questions. Passing score is 75. Results are returned within 3 weeks.

Class and exam will be held at Bitto Bistro, 14697 Delaware St #1000, Westminster CO 80023. Your instructor, both in-classroom and for online coaching will be Kurt Garbars.

Wine study has never been so convenient and affordable! Sign up today!