Down the Rabbit Hole Part 3 Southern Hospitality
Last leg of the trip, leaving the fairy tale land of Collio. Well, the situation turned from fairy tale to nightmarish quickly! We were picked up by a small bus and promised a 6 hour trip down the east coast of the boot to our destination of Abruzzo. 6 hours turned into 8 hours and, oh, did I mention the bus had no A.C.! But, using my super monk-like powers of meditation, my mantra was, "I'm in Italy, I'm in Italy…" Eventually, saturated with perspiration, we arrived at Hotel Cristalo, a beach side hotel bordering the soft sands and boardwalk of Giulianova. The crashing waves of the Adriatic Sea, the breeze caressing my sweat beaded brow, all was forgiven.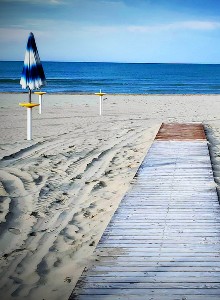 We only had a short amount of time to get into our room, shower off the residue of the bus ride and meet downstairs. We were meeting with the President of the Consorzio of Coline Teramane, the D.O.C.G within Montepulciano d'Abruzzo, our focus for this part of the trip. I was the first to get downstairs, my plan was to get my toes in the water before we had to do anything else. As I walked back up to the hotel, a small man with large hair was waiting for us; Enrico, the President. From first introduction this man was warm and welcoming and was so eager to show off Abruzzo. His pride for where he came from was evident. We took a short stroll down the boardwalk to a nearby restaurant. We walked through and exited the back where we were to dine for the evening, right on the beach! It was a modest pizza parlor where we began with appetizers of fried calamari, a type of soft fry bread with anchovy, and another with tomato, mozzarella and basil and a seafood bruschetta. To drink we enjoyed Cerasuolo d'Abruzzo, the rose from the area made from the grape, Montepulciano. Like some type of Don Corleone, Godfather-like figure, with every wave of Enrico's hand more food, more wine kept arriving at our table. Showcasing Cerasuolo by different producers from the area, the deep pink color almost matched the sky as the sun set into the sea. I think I'm going to like Abruzzo.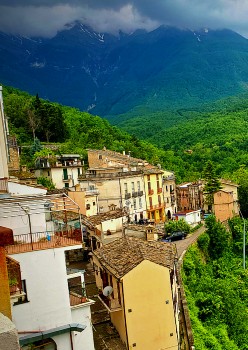 The next day was a little off the beaten path. As I said, Enrico wanted to show off the area from where he came. We took a trip inland towards the Gran Sasso Mountain to a medieval town named Castelli. All over Abruzzo Clay soils dominate, well in Castelli they have a historic tradition of making ceramics from said clay. With a tour guide we were taken to the local art academy focusing on ceramics, jaunted about town learning about its history, visited its church whose ceiling was covered in elaborate ceramic tiles dating back hundreds of years. This was an opportunity for Enrico to give us a deeper glimpse into what makes Abruzzo great. On the way home we stopped for lunch where we drank more wine than any other lunch I've been to in my life! A good 15 different wines were opened, all different producers, all from Coline Teramane, all Montepulciano… I couldn't tell you what else we did that day.
The following days we visited various producers from big boys you may find in chain restaurants like the Illuminati brand, to small scale biodynamic producers doing really cool stuff with their wines. For example, Ausonia did many wines fermented in huge clay amphorae. My personal favorite from them was their Pecorino fermented on the skins. "Orange wine" is a kind of buzz word hipsters like to say now-a-days, but this wine is definitely worth the hype. Full bodied, beautiful texture, floral, stone fruits and honeyblossom, great acidity. Smashable. The thing that made the biggest impression is the diversity of styles coming out of Coline Teramane. Also, the ageability of the Montepulciano grape is something I underrated personally. The big tannins and high acid, you could definitely shelf a bottle for quite some time.
The whole trip Enrico was giving us the insiders tour of Abruzzo, taking us to his hometown of Teramo, feeding us local specialties- spaghetti chitarra (chitarra meaning guitar, the noodles were super long like guitar strings), fried cheese, and tripe. One evening he joined us at a local pub to watch a soccer match and share a beer with the group. I do need to mention for a period of time Enrico was fighting flu like symptoms all while trying to give us an excellent experience. At times his grimace was too hard for him to hide, but he still persisted to give us his all.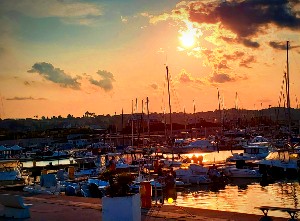 On the last night we dined on the boat docks overlooking the Adriatic. A spread of local seafood, salads and pastas were prepared by the most quintessential Italian grandma looking woman who was sweet and adorable. Enrico provided a plethora of wine which we toasted to his unwavering hospitality. As we wrapped up that evening and walked back to the hotel I felt as if there were no better way to end this trip. In a place that really defines what Italian wine and culture is about. Showing love through the food, drink and experience you give to someone else, even a complete stranger. The next morning we boarded a train back to Milan, we all said our goodbyes and went about our separate ways. The memories and valuable things I learned will last with me forever. I can only look forward to how far down this rabbit hole I can go, and where it will take me next.
Ciao!